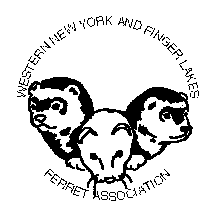 The club was founded in 1989 as the Western New York Ferret Association to promote interaction between ferret enthusiasts in the greater Rochester metropolitan area. By 1990 the club had expanded south and became the Western New York and Finger Lakes Ferret Association (WNYFLFA).
Our Mission
Educate
Through meetings, shows, newsletter, hotlines, etc., the club provides information on the care and maintenance of ferrets. The club uses its resources to help dispel myths about ferrets.

Protect
The club encourages routine veterinary care and vaccinations. The WNYFLFA Rescue and Adoption Shelter takes in ferrets for placement in caring homes.

Defend
Through participation in petitions, questionnaires and letter writing campaigns, the club works to defend the character of the domestic ferret.
Activities
Meetings with demonstrations, special interest presentations and guest speakers
Parties, picnics, and other gatherings
Community events and presentations
Membership Benefits
Membership packet

Club membership card
Club information booklet
Ferret information packets
Back issue of Ferret Chatter

Discounts on merchandise and club activities
Subscription to Ferret Chatter the official newsletter of WNYFLFA, which includes informative articles as well as information on ferret events throughout the eastern United States.
Discounts at selected pet stores and veterinary clinics.
Business membership includes subscription to Ferret Chatter and one annual advertisement.
Membership Information
Annual Dues
Individual/Family: $25.00
Business: $20.00
(Includes one 1/4-page advertisement each year in Ferret Chatter.)
NYS residents please add 8% sales tax.

For information about adopting a ferret from the WNYFLFA shelter, surrendering a ferret, or helping the shelter in any way, email Sandy DeBout, the Shelter Director, at <Sandy.DeBout@usa.xerox.com>.

For more information about the club itself, email WNYFLFA at <wnyflfa@aol.com>.

Page accesses since March 5, 1998: more than
---
To learn all about ferrets, why not check out Ferret Central?
---
Page maintained by Pamela Greene <pamg@alumni.rice.edu>
Last modified 8 Sept 1999